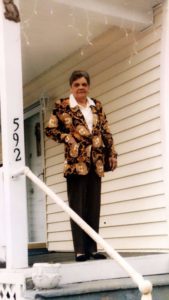 LOWELL        Ana (Mendez) Matos, 80, of Lowell, passed away after a brief illness on Sunday, April 5, 2020 at Lowell General Hospital.
She was born on December 20, 1939 in Puerto Rico.  At a young age her and her family relocated to Brooklyn, NY, where she grew up and was educated.  She has made Lowell her home for over 30 years.
    She enjoyed spending time with her family, and walking all around lowell. She was well known around lowell and had many friends. Ana was a kind soul and will be greatly missed by many. 
    She is survived by her five children; Raymond Matos of Haverhill, Maria Rodriguez of Ohio, Mario Matos of Lowell, Margarita Matos of Lowell, and Anita Berios of Lowell.  She is also survived by many grandchildren, and great grandchildren. She was also the mother of the late Rafael Matos.
    Besides her children, she was survived by her live in boyfriend for many many years Miguel Justiniano.
Due to the regulations in place during the COVID-19 Pandemic, her funeral will take place privately.  She will be buried in the Westlawn II Cemetery, Boston Rd, Lowell, MA please feel free to send any flowers to the funeral home by Tuesday. Thank You